Shared Decision-Making
Explained
Definition of shared decision-making:
Together, patients and the health care team clarify all acceptable options, ensure that both parties are well informed, and choose a course of care consistent with the patient's values and preferences in the context of the best available medical evidence. In other words: Helping patients evaluate all available options—weigh their personal values, goals and priorities against unbiased medical evidence—in order to make informed decisions at every stage of their care.  
>> MORE on the definition
Overview

The clinician presents an unbiased view of the pros and cons for all options, including "do nothing." This may require the patient to do homework (read about a treatment, watch a video, etc.) and then return for further discussion.
The patient tells the clinician about personal factors that might make one option seem better than another. These include personal values, goals, preferences and circumstances.

Together, the patient and clinician use this information to decide which option best reflects the patient's needs and values.
Who Can Be on a Shared Decision-Making Health Care Team?
Many types of health care professionals
can be part of shared decision-making, including:
Doctors
Nurses
Care Coordinators
APRNs
Health Coaches
Physician Assistants
Navigators
Pharmacists
Patient Advocates
Benefits of Shared Decision-Making
Watch video featuring Larry Allen, MD, MHS, discussing the benefits of shared decision-making in heart failure.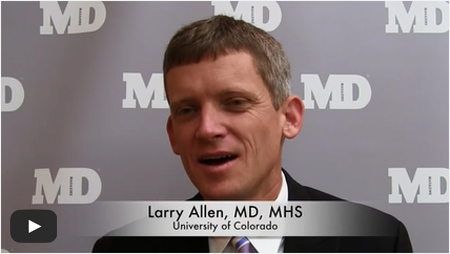 "Shared decision making is about much more than just informing patients about what is evidence based and what is best practice, because in some cases that's all we have: best practices. It's about eliciting their values and preferences. What really, really matters to you? Do you care about avoiding surgery? Are you willing to accept some risk? Do you want to avoid having to take pills, or are you willing to go through pill taking and physical therapy to avoid surgery?"
– Kathleen Fairfield, MD, MPH, DrPH,
Maine Medical Center Research Institute's Center for Outcomes Research and Evaluation.
Shared Decision-Making is not Informed Consent
While shared decision-making differs from informed consent, the concepts complement and augment one another. In a sense, shared decision-making is "perfected informed consent." If we do shared decision-making well, then informed consent is real and genuine. By doing informed consent well, we verify that shared decision-making was successfully executed.
Shared decision-making happens "upstream" from informed consent, before the patient commits to an intervention.  In choosing a treatment plan, both patient and provider need to gather information and gain the knowledge needed to shape the decision.
Informed consent occurs before the intervention but well after the treatment plan has been established. It is the closing of the transaction—the moment where the patient and health care team finally commit to the plan of care.