Design

and Pilot Your Shared Decision-Making Process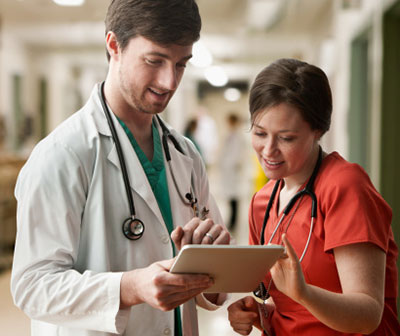 The main objective in this step is to develop the care delivery process and the roles of each professional in this process depending on your approach (broad-based or preference sensitive condition). Determine the timing of coaching (before, during or after the visit) and the team members who can best share the options and risks and benefits.
Steps of a shared decision-making conversation:

Involve your patient
Let your patient know that you understand that making treatment decisions can be overwhelming. Invite them to work together with you and the care team to develop a plan that works for them. Patient engagement and developing a relationship are key to the success of this step.
>> Decisional Conflict Scale
>> Guiding Principles of SDM
>> SDM Competencies
Assess knowledge and decision-making
Find out if your patient understands how the benefits of a particular treatment option might be of value to them personally. This is an opportunity to know where to begin to provide the "why" to change.
Present all treatment options, risk and benefits
Review all treatment options. Review costs (financial and burdens of treatment), side effects (risks), benefits of options. This is a great step in the process to use decision aids. Pay attention to health literacy and numeracy needs.
Identify values and preferences
Once your patient understands the facts, taking their values and preferences into account, discuss what options seem best for them.
Mutually agree on a plan of care and document it
Describe a plan of care based on what the patient thinks will work for them, agree on the plan, and record it. Make sure that any items that need future follow-up are addressed.
Validate understanding
Use teach-back to assess patient's understanding. Ask open-ended questions to have the patient articulate the options and plan so that you can assess the level of understanding.
See examples of how these steps might be used with preference-sensitive conditions. >>MORE
Explore individual roles in the shared decision-making process.
How does this team envision the role of the patient? The patient's family? Each team member? Is there a lead decision coach? How will the clinical team collaborate under this new model?
Key Considerations During the Design and Pilot Stage
Vision, tools, accountability, feedback, >>MORE
Related Topics for the Design and Pilot Stage
Health literacy and numeracy, patient engagement, motivational interviewing, decision aids, >>MORE