Choose

a Shared Decision-Making Approach
Spend some time evaluating your goals and organizational readiness for choosing between these two potential implementation approaches:
ONE:
If your goal is to
change the basic way
that health care teams and patients interact with each other and use shared decision-making as a way to identify and address any decisional conflict, then you will want to take a broader approach to choosing a framework that can be used in any situation.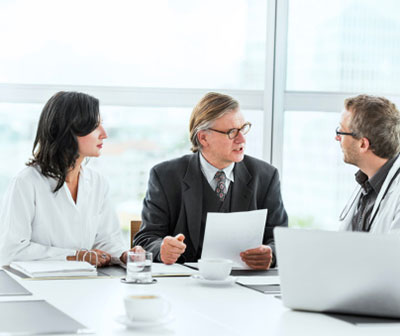 A Broader Approach:
The ICSI Conversation Model
>>MORE
TWO:
If your goal is to start smaller by engaging a health care team to pilot a project that
impacts a particular preference sensitive condition
, then focusing on developing a clinical process specific to that condition may be best.
Tip:
Your approach may depend on which strategies have worked in the past to effect change within your organization. Might you be more successful with a smaller scale project that can show results quickly, or will it work better to present this as a more in-depth effort to change your organization's culture?
Top 5 Preference Sensitive Conditions for Shared Decision-Making:
Breast cancer
Hip treatment
Knee treatment
Lower back pain
Prostate cancer
>>MORE