Create

a Shared Vision

Involve your senior leadership in making this initial commitment and vision for how shared decision-making fits in your organization.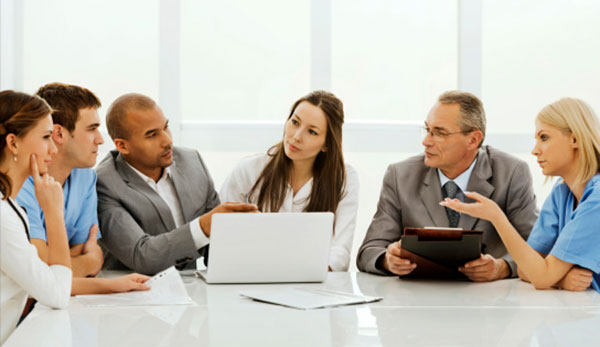 Develop a leadership team with physicians and operational leaders to learn the nuances of shared decision making together.
Creating a shared vision case study:

Stillwater Medical Group
Identify the benefits to your organization.
Tie shared decision-making to patient centeredness. Demonstrate how it is a critical element of patient centered care.
Emphasize the value of a well-informed, activated patient. Patients who engage in shared decision-making have a deeper understanding of their options. Providers are able to use their time more effectively, offering deeper, more meaningful education.
Do your patient satisfaction metrics show a need to improve patient-provider communication? Are you required to document strategies for patient-centered care? Shared decision-making aligns with many quality initiatives and regulatory requirements.
Develop an understanding of the potential barriers and ways to eliminate or reduce their impact, including:
Challenges to physician autonomy. How comfortable are your providers with changes to their role?
A failure to recognize preference-sensitive conditions. (A condition is "preference-sensitive" if there's more than one clinically appropriate intervention available. Examples: low-back pain treatment, breast cancer treatment, colonoscopy.)
See how the Minnesota Alliance on Patient Safety
Culture Roadmap

helps create a shared vision
Be prepared to answer these questions:
Don't we already use shared decision-making?
Many providers (and patients) believe that decision-making is already shared; however, the research suggests otherwise.
>>MORE on the disconnect
How is this different from informed consent?
While shared decision-making differs from informed consent, the concepts complement and augment one another.
In a sense, shared decision-making is "perfected informed consent."
>>MORE on the difference
We don't have time for these conversations. Who else can manage shared decision-making instead?
A conversation between patient and clinician is already taking place; we can incorporate decision support strategies into patient encounters with minimal increase in time.
>>MORE on this topic
What is the evidence behind shared decision-making?
Over 100 studies show that decision support tools can improve patient knowledge and give them greater confidence in the decisions they make.
>>MORE on this topic
What is the business case for shared decision-making?
Certainly, shared decision-making can reduce the unnecessary use of health care resources. Nevertheless, we must be careful to keep our focus on the ultimate goals of shared decision-making.
>>MORE on this topic
What if patients don't want shared decision-making?
We have responsibilities to offer patients the necessary information about their treatment and to listen to what is important to them when making the decision. If, ultimately, they defer their decision to their provider, that is their choice.
>>MORE on this topic
NEXT: >>
Choose a shared
decision-making approach